Rokas Vaitkevicius , Administartion director at UAB Latakko
http://www.latakko.lt
Bilateral Meetings
25.04.2014 Friday (10:00 a.m. - 01:00 p.m.)
25.04.2014 Friday (01:30 p.m.- 05:00 p.m.)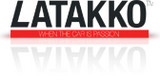 Latakko company was founded in 1994. Initially, company's main line of business was the sale of batteries . Over time, the company has evolved into the leading firms in the tire , alloy wheels , batteries and lubricants in the Latvian market . It has been developed such new activities as a specialized tire repair and light and heavy vehicles.
For successful company Latakko annually to improve its position in the market and in 2010 ranked among the largest 201 companies in Latvia .
Since 2001 Latakko engaged Pirelli Key Point tire centers network in the Baltic countries.
The company offers a wide range of products , which are 20 tire manufacturers produce more than 300 designs of alloy wheels , 400 kinds of batteries and motor oil and a wide choice of chemistry .

Latakko company is the exclusive agent for one of the largest tire manufacturers in the world concerns - Pirelli . Since 2001, together with the Pirelli company is developing a franchise network Pirelli Key Point ( autocentres specialized tires and shops ) in Latvia. Currently, Pirelli Key Point network consists of 40 shops and autocentres that cover the whole territory of Latvia , and began development of this project in the Baltic level. Since 2008 Latakko develops another tire center network - Hankook Masters.
Country: Lithuania
Organization Type: Company
Organization Size: 1-10
Phone: +37061465787
Email: rokas.vaitkevicius@latakko.lv
City: Vilnius ,Verkių str.30B Google map
Areas of Activities
CONSTRUCTION MACHINERY, EQUIPMENT, TOOLS
Request
Dealers, end users
We are looking for reliable dealers how can represent throw the country our selling products as tires, oils and accumulators.
And we are open to do business with the end users-consumers.