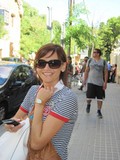 Inga Vasiliauskaite , Export manager at Specialised Technical Translation Bureau TRANSER
http://www.transer.net
Bilateral Meetings
25.04.2014 Friday (10:00 a.m. - 01:00 p.m.)
25.04.2014 Friday (01:30 p.m.- 05:00 p.m.)

Specialised Technical Translations Bureau TRANSER began business in 2005 as a group of translators, all with different areas of expertise, and all with translation experience. We specialise in technical translations – many of our clients are Lithuanian and foreign, multinational companies ( as LEXUS, TOYOTA, NISSAN, HITACHI, SELVAAG BOLIG, STATICUS, MIDA LT). We translate user instructions of all levels of complexity, engage in localisation projects and translate large-volume texts in a very short turnaround time.The list below features the most common areas:
Engineering - electrical, chemical and mechanical, structures, civil engineering,,drawings ( drawings may be for electronics or wiring on industrial sites or office buildings as well as building plans, assembly instructions for machines and devices, etc., Dual-language AutoCAD/Microstation drawings, PFD, P&ID, schematics, manufacturing, vehicles, cars and trucks, heavy machinery, computers, systems, networks, hardware, software. telecommunications, medicine, IT (information technologies).
Starting October 2013 we opened our separate drawing translation departament for CAD translations.his departament focuses solely on the translation of written content included in drawings, blueprint, pictures, schemes and other specific technical documentation.
Country: Lithuania
Organization Type: Company
Organization Size: 1-10
Phone: +37060174795
Email: marketing@transer.net
City: Kaunas ,Taikos pr.42-36 Google map
Areas of Activities
CONSTRUCTION MATERIALS AND ARTICLES
INTERIOR FINISHING MATERIALS
VENTILATION AND HEATING EQUIPMENT
WATER SUPPLY AND DRAIN SYSTEM EQUIPMENT
ELECTRICITY INSTALLATION IN BUILDINGS
SECURITY MEANS AND SYSTEMS FOR BUILDINGS
CONSTRUCTION MACHINERY, EQUIPMENT, TOOLS
ARRANGEMENT AND MAINTENANCE OF DWELLING PLACES
ENVIRONMENTALLY-FRIENDLY, ENERGY-SAVING CONSTRUCTION
TIMBERWORKS AND OTHER CONSTRUCTIONS
BUILDING AND RENOVATION SERVICES, PROJECTS, CONSULTATIONS
Offer
Technical translation services