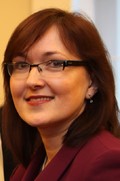 Renata Urbone , Business development manager at Esperonus
http://www.esperonus.com
Bilateral Meetings
25.04.2014 Friday (10:00 a.m. - 01:00 p.m.)
25.04.2014 Friday (01:30 p.m.- 05:00 p.m.)

ESPERONUS is an information technologies solutions and services provider, servicing clients from real estate, construction and building materials production businesses for over 10 years. Solutions are developed using web technologies and open source platforms. They are user friendly, elegant and lean.
Company offers the following solutions:
1. Private-parking lot management information system: that ensures the safety of the real estate building, increase the efficient usage of the parking places, diminish the frauds, allows quick entrance. Flexible rights management, integration with video cameras and vehicle plate number recognition, information boards and many more benefits for the real estate owners and users.
2. Real estate rent management information system: from reservation to monthly billing and all the back-office administration function.
3. Construction projects and documents management system. When building the system most attention was paid to planning, accounting and controlling of construction costs within the projects.
4. System for manufacturing planning and management of construction materials with additional separate component for managing the sales of built real estate objects.
Consultants advise how to manage the manufacturing, construction and real estate business for saving of all kinds of energy and resources: human, utilities, equipment, materials and money.

Country: Lithuania
Organization Type: Company
Organization Size: 1-10
Phone: +37064061060
Email: renata@esperonus.com
City: Kaunas ,V.Kreves 13a Google map
Areas of Activities
SECURITY MEANS AND SYSTEMS FOR BUILDINGS
BUILDING AND RENOVATION SERVICES, PROJECTS, CONSULTATIONS
Offer & Request
IT solution for construction, manufacturing and RE business; export partnership requested
We are looking forward to offer our solutions for real estate, construction companies and construction materials manufacturers and involving in partnership in related R&D.
We are looking forward for sales opportunities through partners in Scandinavian market.
Cooperation Offered
Research co-operation
Technical co-operation
Subcontracting
Cooperation Requested
Sales / Distribution